Finally my online status for Harrah's Total Rewards is showing up as Diamond.  I had a slight suspicion that the nice lady at the Rio hadn't actually ugpraded me properly, but that she'd simply reprinted my details on a nice shiny diamond card to shut me up.  Seems like that was actually the case.
I had to talk to someone at the Rio as I had the wrong kind of ID in Laughlin.  A UK driving license was good enough to get a brand new card printed when we arrived, but suddenly no longer good enough to have anyone at Total Rewards want to speak to me after I'd finished cycling thirty grand through one of their machines.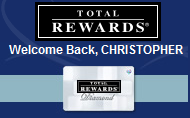 I'm only a little cynical, because to their credit it only took one email to get everything put right.  I'd waited two weeks, checking the web site daily for the colour of the little card icon next to my name to change from gold to diamond.  Eventually I wrote to ask when they would start to make with the free stuff.
Hello Mr. Newman,

It appears that you earned that tier score out our Laughlin property. I've contacted their personnel to upgrade your tier status.

Thank you!

Imperial Palace
Total Rewards Central is Imperial Palace?  A few months ago it wasn't even worthy of being part of the Total Rewards program!  More likely their web site remembered the last casino I'd been looking at for room offers, and I had been rummaging around, desperately trying to find something – anything – for free.
I'd heard Tim and Michele on Five Hundy By Midnight saying they could usually get a Luv Tub room or even a Suite at Imperial Palace comped on any weeknight with their Diamond offers.  I got excited.
My best deal though was (and still is, even now with my shiny new status gleaming in the corner) a basic room for $62 per night.  It's really not hard to get a better rate than that from almost anywhere else, so maybe I should give it a bit longer for the offers to come through…
While logged in tonight I took the opportunity to update my mailing address.  They had it ever so slightly wrong, and I didn't want anything to come between me and my junk mail.
I also wondered if I might be able to update my name.  It really doesn't bother me that the only people who call me by my full name besides my parents are slot club staff, who generally copy everything verbatim from my ID without asking.  But Christopher is sometimes a bit long for the slot card display, and I really don't like being called Christophe by a machine that was programmed by someone who decided nobody would ever have a first name longer than ten letters.
No, it's not possible to change your name but, should the need ever arise, changing your gender is really easy.  Just two clicks and I could be a woman.

Now, some thought must have gone into this.  It's an updateable part of the profile with it's own submit button, but your name and date of birth are read only.  The only thing you can change is your gender!
Why might I want to update my date of birth?  Perhaps because Americans write dates in a funny order and it's usually a lottery over whether they put me down for May 3rd or March 5th.  The only way I could tell if they got it right here is by checking to see which of the sets of numbers you would pick from to change it only goes up to 12.
Your name never changes though, right?  Well, maybe just once when you get married… but, that happens so rarely in Vegas that I guess it's hardly worth considering and Vegas weddings don't count anyway.
So, do women get the best casino offers?  There's one way to find out…