Even though Krispy Kreme's invasion of the UK is well underway with about 40 proper stores – and a number of Tesco supermarkets also stocking their products – it's all down South still.  There's just four stores North of Oxford.
So today we drove to Manchester to buy donuts.  Well, it is my birthday. 🙂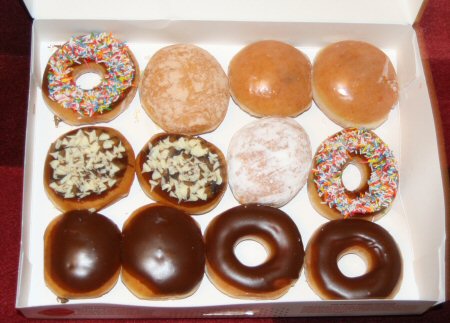 I know for a fact I didn't ask for the two chocolate ring donuts, I think we missed out on glazed lemon filled at the expense of those, but it doesn't really matter.  They're all good.
I've learned that the Krispy Kreme at Trafford Park is open as a drive thru until 2am some nights, and they bake fresh until 11pm every day.  This is the actual definition of temptation.
The question of whether a 90-mile round trip is far enough to put me off returning without any other reason for being in Manchester has yet to be answered.