This year it looks like I'm trying to prove whether it is actually possible to have too much of a good thing.
The trip to Las Vegas and Laughlin I just booked for June really isn't necessary.  We just came back at the start of April, and it's less than ten weeks until the summer trip.  So adding another week to the time I'll be spending in Nevada this year is somewhat excessive.
It all started when I got this offer in the mail from Harrah's Laughlin.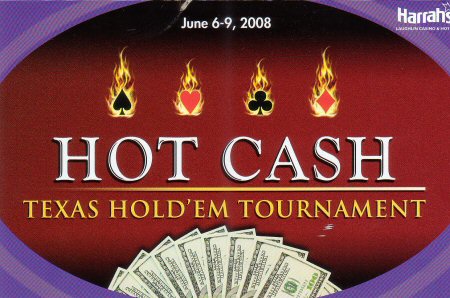 I completely disregarded it at first, along with a handful of other mailers they sent me that I figured I'd never use: two tickets to see Boz Scaggs in concert on May 17th; an invitation to a Golf Weekend May 23rd-25th; a Blues Brothers tribute show on 14th June.  This one – a free World Series of Poker satellite tournament – falls on the weekend of June 6th-9th.
Put them all together and that's four offers in four weeks.  I'm about due another batch of American mail (it's forwarded from my California mailing address every 3-4 weeks) so I'll should soon get an idea of whether they have some kind of offer every single weekend, or if most Laughlin players had been waiting months for something, and then four came along at once.
As silly as it seems to fly half way across the world for the sake of a freeroll, I just kept on thinking of too many good reasons to be able to say no to this.
The value of the tournament is unknown, but it could be pretty good.  It's a $25,000 prize pool with a $6,000 bonus drawing, so if they get 100 runners that's a $310 entry for each one.
When I booked it, they told me 400 rooms were reserved for the promo so there could be 400 players, which would clearly be much worse but unless I'm being extremely naive I can't see that happening.  This can't be taking place in the poker room (it has a total of 8 tables) it'll be out of the way in some meeting space, but even so it's taking place during the WSOP and on a weekend.  Will they really ship in dozens of dealers from Las Vegas for a freeroll when they could be dealing tournaments or side games at the Rio?
However the major factor that got me considering this silly plan was my frequent flyer miles situation.  Yes, it's a serious concern!  With my bargain business class flights coming up in July and returning in August, I was set to reach gold status on the return trip but taking this trip in June means I'll actually make that status on the outbound jouney instead.
The big deal with this is that I've decided to try to retain gold status for the next ten years (which awards lifetime membership) and having the new status begin in July rather than August will make it much easier because of when our travel dates (determined by Claire's school holidays) are likely to fall the next few years.  Sounds like a feeble excuse, I'm sure, but I've worked it all out and it does make a lot of sense to take one extra flight now to make sure the trips we'll take regularly will be enough to re-qualify me for gold each year.
By the same logic, it's actually going to be a easier for Claire to retain her own gold status if we take another trip in before Christmas, but the jury is still out on that one.  I'm rooting for Atlantic City in October, but I know that it's a long shot.
Every set of dates I looked at came up with a US Airways flight that was much cheaper than any other airline (it cost £368 in the end, making me remember just how much we get shafted having to travel in school holidays).  US Air awards miles in the BMI Diamond Club so it was a perfect fit.
Additionally, the miles I'll earn from this flight, and by getting the status upgrade early, are worth about £180 – that's half the cost of the flight back!
I can also use this trip to get some extra play time at Harrah's Laughlin to get a head start on retaining Total Rewards Diamond status for next year.  It'll definitely help take the pressure off for the summer if I can get a few thousand tier credits racked up on the almost-positive video poker machine there.
The final justification to myself was that I had been thinking about going to Bristol for the Gala Tour later in June, which would have been an £880 buy in for 3 events, plus a fair chunk of cash to stay down there.  Accomodation is included with the Laughlin offer, and I have plenty of comps to be able to stay in Las Vegas without paying a penny the other nights, so in fact there's not that much much in it overall.  Could I get to Bristol and stay there for four nights and get much change from £200?  I doubt it.
I'm not particularly bothered about playing a World Series event (the choice would be $2,000 No Limit, $1,500 six-handed or $1,500 shootout) but there are several other tournament series in town at the same time.  Golden Nugget, Binions, Caesars and Venetian all have their own tournaments in the $200-$500 range.
Once I've decided what I'll actually play, I'll probably be selling pieces of myself again.  If you fancy a solid, just-about-break-even investment, stay tuned.
By the way, I'm not knocking Bristol – I've never been, would quite like to, and was actually going to go there using my Virgin Traveller ticket until they lost the West Coast franchise – but it's no contest when I can get to Vegas almost as easily.  OK, it takes about 12 hours longer, but I'll just about live with that…