Apparently Neteller think I'm a VIP.  Not really sure how that happened, although I did notice that I now have more than a million Netpoints.  They're probably worth about a buck fifty.
All you can do with Neteller's loyalty points is use them to enter a prize draw that typically has thousands of entries, and although I've no reason to doubt the integrity of the draw this just seems like it would be pouring my points down the drain.  I'd rather have the impressive seven-figure balance, thanks.  Maybe they'll even let me buy a t-shirt with them one day too.
But this VIP promotion which I had in my email is very, very juicy: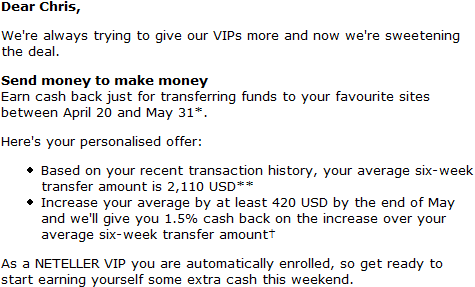 It's taken a while to get my head around what I actually have to do to get some free money here.  I wrote to ask them to explain exactly how the calculations had been done, because whichever way I looked at my statement I couldn't see how on earth they had worked out such a high six-weekly average.  My total transactions since the start of the year are only slightly more than that!
They replied:
The six week average was calculated by taking the average of your weekly transactions between January 1 2008 and March 31 2008. Only weeks that you had at least one accepted transfer to a merchant were used in calculating your average. The weekly average was then multiplied by six to give a total average for six weeks (because the offer period is six weeks long we had to calculate your original average over the same time period).

The VIP bonus offer is based on your total transfers to merchants between April 20 2008 and May 31 2008,only transfers to merchants will be included in calculating your bonus (only funds that you send to merchants).
So it sounds like they've inflated the six-weekly average by ignoring weeks where I had no activity.  It doesn't really matter though.  They've said that this offer is based on precisely my next six weeks of activity – no further calculations required – and because they've told me what my target amount is, I can make sure I achieve – and surpass – it.
Basically, Neteller is going to pay back a percentage of their fees to users who exceed the target level of transactions.  Using Neteller to transfer money in and out of gaming sites costs the player nothing – instead Neteller charges transactions fees to the merchants.
They charge 3.9% on deposits (the same that you pay as a user for a person-to-person transfer) and 2.0% on withdrawals.  Getting back 1.5% of your total deposits amounts to nearly 25% "fee-back", however because you never actually pay those fees yourself, it's just free money.
It's Neteller that's the real winner of course – they just want to grab as much in transaction fees as possible – but it's a no-lose proposition for the player.  It'll be the casinos and poker rooms that get hit who pay for it.
Just think about the numbers.  I've started off abusing this promotion with a $1,000 deposit into UltimateBet, who were offering a 20% (max $200) deposit bonus today.  I already had more than $500 in bonus dollars sitting in my account that I've never had the inclination to play for.  Apart from a few satellites and the odd game of roshambo, I never play there.  Hopefully, depositing in response to an email promotion should make my deposit look a little less out-of-character than it really is.
This deposit cost UB $39, and I intend to cash it out as soon as possible which will cost them another $20.  This is one of the fussier sites in terms of getting your money back because you have to be seen to play some poker before a withdrawal is authorised.  Still, there's no way I'm going to generate $59 in rake before getting my money back.
Clearly, the optimal strategy is to cycle as much money as you can get your hands on as often as possible.  I don't think it's worth adding money to my Neteller bankroll just for this – you have to pay fees to deposit and then again to withdraw that will reduce the value of the promotion considerably – but certainly for the next six weeks my entire bankroll is going to be in play.  In, out, in, out, play a few hands, do the hokey pokey cokey and turn it around.
That's what it's all about – easy, risk free money.
I used to cycle funds like this at Party Poker all the time.  In the good old days, you could earn 1000 bonus PartyPoints just for making a deposit of $500 and not withdrawing it for a week.  This was way out of proportion to the number of points you'd earn from actually playing as a casual player (if I remember right, 20 raked hands earned 5 points) so this is the only reason I have so much Party gear.  At 2000 points for a polo shirt, you could order one for free after every two deposits you made – without playing a single hand of poker!
I've also been looking for a way to cycle money on a credit card that awards frequent flyer miles, worth about 3p per £1 spent.  The dream is to use up my entire credit limit every month, then settle the card immediately, rinse and repeat.  Unfortunately, unless it's genuine spending this is pretty difficult.  I've looked into laundering through online gambling sites but it doesn't work – you have to pay a cash advance fee on the deposits which costs more than the benefits you get from spending on the card.
No such problem with Neteller though, it's just money transfers and it costs me nothing.  As long as it's a casino or poker site that accepts payment directly in US Dollars, and I'm confident that I'll get my money back pretty quickly then it's fair game.  Even the Cryptologic cashiers that charge $1 for a withdrawal are profitable plays!
After I meet the $2,530 target, which won't take long, every $1,000 I can shift is going to earn me $15.  Doesn't sound like much, but don't underestimate how often I'll be trying this – I've got six weeks after all!