What better way is there to belatedly start a trip report than with a photo of a royal flush?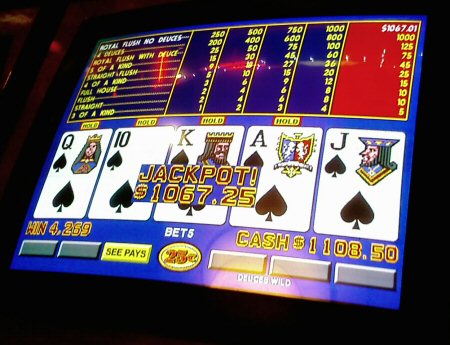 Claire hit this beauty at Palms on monday on the bank of Deuces Wild machines we've played so much in the past – and seen the progressive jackpot hit at least half a dozen times while playing there. So I'm sure this was overdue!
Remarkably, another player also hit a royal flush at almost exactly the same time but Claire just got in there first. The jackpot meter showed $1067.01 for hers (it's rounded up to the nearest quarter for the hand pay) and $1000.56 for second place.
Nice work indeed, and it's not even her only one. Make it three royals in three days… spades, clubs and hearts ticked off the bingo card – just diamonds to go.
The one of the left came from a 10-line machine and the one on the right from a 50-line machine, so these weren't quite so difficult to hit but each was worth $200 nonetheless. A royal flush always looks pretty, even if you do have to get quite close to the screen to actually see it.