The deal I had in the mail from Terrible's was for two hotel nights free with $50 in free slot play for turning up. In fact, when we went to the players club to claim the free play we each got $50 awarded. I still don't know why, but I'm not complaining.
Nor am I complaining about the fun book coupon for a 125 coin bonus with quad 8s or 9s, which Claire managed to hit while we were running through the free play. Two attendants came along, took the coupon, discussed it among themselves and came to the conclusion that 125 x 25c was $62.50. Miscalculations by casino staff are definitely +EV, even if a little grey ethically.
The hotel room was very nice, in fact even without a mystery gift basket it still takes the lead as best hotel so far. All the rooms have been about the same size, but Terrible's was a little more modern. It had a flat screen TV – they call it high definition, but that's complete rubbish when you just get the regular channels shown in stretch-o-vision – and a coffee machine in the room.
Another useful – and unexpected – little perk was free internet in the room. Compared this to a whopping $13.99/day at Monte Carlo and $10.99 at Harrah's Laughlin.
The room even had as much of a view as you could possibly expect from a five-story, off-strip hotel. The picture is a bit streaky because I had to take it through the window mesh but you can see the clear view of the neck of the Hard Rock Hotel's big neon guitar. And a giant electronic billboard.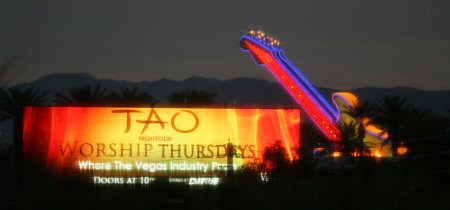 My only complaint would be that the ice machine was about a mile from the room, down two floors and right on the opposite side of the hotel. In fact it was quicker to walk to the casino gift shop to buy some.
If I believed Terrible's were pioneers in hotel design I might think that it's deliberate, but I really doubt they'd have gone to that much trouble for the sake of a 75c bag of ice.