The pictures in the spam got all screwed up, but the offer is still a good one…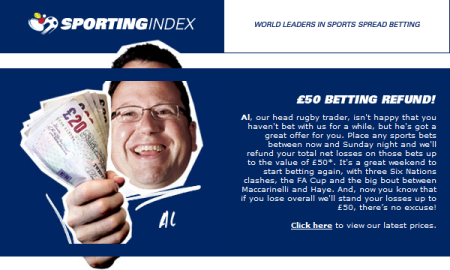 Been a while since I had one of these.  Thanks, Al.  Keep your head on…
Play it right and it's a completely risk free £50 bet.  You just have to pick a bet based on a fairly even matchup, with a limited downside and as few different possible outcomes as possible.  That way you don't need a freak result to win big on a no-risk spread bet.

The Win Index on a football game is usually a good candidate, and I've picked the glamour fixture Drogheda United vs Shamrock Rovers for this bet.  I don't know anything about football these days, so an Irish game is as good as any.  With three apparently strong favourites (Man Utd, Liverpool, Chelsea) playing in the English televised games this weekend, the market on this game is a better fit for this bet than any other.
The Win Index awards 25 points fora a win, 10 for a draw and nothing for a loss.  By selling Drogheda at 15 for £5 per point, I lose exactly £50 (maximum value from this promotion) if they win the game.  A draw wins me £25 (£5 x 5 points) and if Shamrock come out on top I win £75 (£5 x 15 points).
It's all settled after one game, even with a draw, as both winning outcomes are good returns on a £50 free bet.
I had to check to be sure, but yes – Shamrock Rovers do play in green.
EDIT: Seventy five quid, tyvm.  Shamrock Rovers won 1-0, thanks to an early goal from a dude named Murphy.