I was marvelling in the summer at how a junk shop pretending to be a Las Vegas casino memorabilia store had managed to put a standard Hooters carrier bag up for sale as "vintage" gear and price it at $7.50.  But perhaps they saw something coming.
The Review Journal has reported that breast-themed Hooters Hotel and Casino is to be sold and redeveloped.  The property celebrated its 2nd birthday just last month.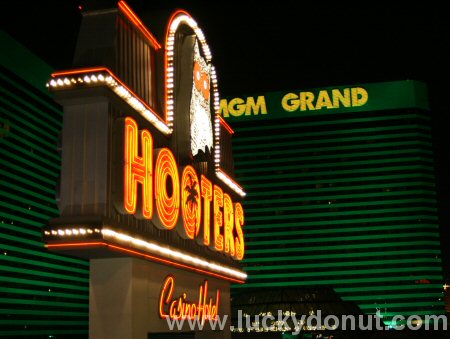 There's not a great deal I'll miss about the place, although I had discovered that Hooters was a good place to park when the major hotels on the South end of the strip were busy and limited to guests only.
However the casino had no games that I'd bother going out of my way for and the couple of times I walked past the poker room there wasn't even a single game going on.

I tried to get some value out of the slot club signup offer.  The cuddly owl mascot in a Hooters T-shirt was almost as tempting as a free buffet or even cash, but only after I'd signed up did I realise you had to earn slot points on three consecutive days to get him. 
Free stuffed toy, or never having to come back here again…  Turned out it really wasn't a tough decision.
The downfall of Hooters is, presumably, because if you're looking for the thing guys want to see more than anything in the whole wide world (see one minute video below, if you really need it explaining..) you have quite a few options in Las Vegas.
With so many strip clubs, topless shows, hot girls direct to your room and legal whorehouses just an hour away, do guys actually come to Sin City to eat chicken wings served by a girl in a tight t-shirt and orange hotpants – just like they can get back at home?
Now, where can I get a beer sandwich?