Some suckouts are just brilliant.  Hopefully this is the turning point for me tonight after 8 straight out-of-the-money finishes in sit and go tournaments.  I finished 3rd – it's a start.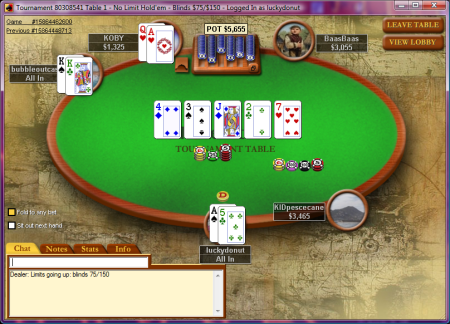 It was the first steal attempt I'd made in this tournament, and it all went badly wrong.  I open-pushed ace-five from the button and got called immediately by pocket kings and then immediately afterwards by ace-queen suited.
When the cards were turned over I said out loud, "Oh great, I can't win".  Nobody was there to listen, or to remind me I actually had a 9% chance of taking it down.
The flop brought hope in the form of a mighty gutshot draw.  "Oh, I can now – with a two", I continued for the benefit of the audience at home.  You don't always have to call it a deuce.
And the sweetest turn card sealed the deal.  Ship it.