In case it wasn't obvious from the gaps that have started to appear in the blog, I'm now back from Vegas and have to catch up on writing the trip report alongside catching up on other almost-as-important things, like earning a living. There's still a couple of back-dated entries to come.
Just like last year, our most winningest day came right near the end so bragging about it will have lost some of it's edge now I'm back at home. But I'm still going to have a good go.
It started off at Red Rock, where we had a magic coupon to get $120 in "non-negotiable chips" for table game play for $100.
Usually the chips you get with this sort of offer are worth their face value for a bet, but when you win the promotional chip stays in play after you get paid off with real money. To work your way through the bonus, you have to lose all the original chips.
At Red Rock, that they didn't just give us $120 in promotional chips – $100 of it was in regular red $5s chips! So to complete the bonus, you only have to lose $20 in bets. The other $100 (of your own money) is completely risk free!
Still, this time we'd come to play and as there weren't two adjacent seats free at a $5 blackjack table we sat down at Let It Ride, where I proceeded to hit an unholy run of great hands.
It kicked off with 334 in my hand I pulled one bet back before the dealer flipped the third 3. Since I now had a wining hand, I let it ride, called for another 3 and it was almost as good… a 4! Boat!
A full house pays 11-1 on every bet you have out there, so I won 22 x $5 = $110, and the $1 bonus sucker bet (hey, I was playing with their money) was worth another $150.
Then I hit a flush with two bets out there. I'd already noted that the 8-1 payoff made it worth leaving your last bet in play on a flush draw when you are 39-9 (just over 4-1) to hit it. That was $40 x 2 and a $50 sucker bonus for another $130.
What I hadn't worked out is how much being able to see another player's cards affects the draw. You're not meant to look at what everyone else has, but as there's no disadvantage to letting someone else see your card, you generally don't get players who pull up their hoodie and press their face into the felt just to grab the smalest peek in Let It Ride.
If fact, Claire and I openly show each other what we have so we can cheer for each other, or whinge about what a con those computerised shuffling machines are when we both have virtually identical hands with almost no chance of hitting a win. Nobody cares.
When I found myself staring at four hearts just a couple of hands later, but saw that Claire already had two cards of my suit, I completely choked. Partly thinking that the odds of hitting were much worse now than they really were, but also at the back of my mind that surely I couldn't hit another flush so soon, I pulled a bet back.
Way to save five bucks. Of course, the heart came on the river, and although I won $90 it would have been $130 if I'd let it ride, like I was meant to.
I should have taken a little more time to work out that even with only 7 hearts left in the deck out of 45 unknown cards I was still only slightly worse than 5-1 to hit it and so I should take the 8-1 odds they were offering me on that extra bet.
Still, any win on Let It Ride is worthy of a fanfare, and there was me with three of them!
Claire also won a bit and, for novelty value, we coloured up together and for the first time ever I got to hold one of these.
But there's more.
We'd been to the Palms for dinner – which in itself was a win. For the past two weeks they've been doing a daily giveaway that almost always awarded one or both of us $10 food credit. For a while it looked like we'd have loads left over, but fortunately you can combine as many as you like when paying for one meal, rather than just getting a $10 discount each time you eat. So we took a handful of them to Gardunos and had a very good Mexican meal.
On the way out, Claire said she wanted to play Loose Deuces Wild as we almost always hit jackpots on that game at the end of a trip. See this and this for proof, and just accept that three or four times out of twenty something trips is "almost always".
Horror of horrors – the Loose Deuces machines had gone! It wasn't the best game in the casino, but they are technically positive expectation machines (albeit a highly marginal 100.02% payback with perfect play) so hopefully this isn't a sign of things to come.
Instead she decided to take a punt on $1-coin ($5 per game) Double Double Bonus Poker, which is an extremely volatile game, way beyond our bankroll, except for taking the occasional silly shot like this. The paytable means you receive less for all the winning hands except for four of a kind, which can produce some very juicy payoffs much more often than the 40,000-1 royal flush.
"Just four spins", she said. It took three.
Hold a pair of aces. Draw. Deuce. Ace. Ace.
Jackpot! Two thousand dollars!
The machine locked up and went mental well before we'd actually realised what was going on. Having held only one pair of aces for the other three perfect cards to drop in, it took a while to catch up.
I'd barely taken any notice of the upper end of the paytable and how that related to the $1 denomination. I knew most quads were going to be $250, but aces, 2s, 3s and 4s were worth more. But four aces with a 2, 3 or 4 kicker is an awesome win. It pays 2,000 coins – half as much as a Royal Flush!
On a $1 machine, that's $2,000 – which means a human has to pay you – and complete some tax paperwork. I'm pleased to say that, once again, this was a painless experience and we got all the money without any problems.
It was impossible to get a photo of the jackpot screen without some kind of reflection spoiling it, so I made the best of it and lined up this one.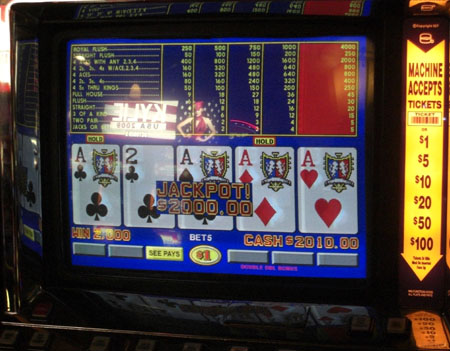 Yes, it's four aces, and a kicker, and Kylie.