This is a "Silver Strike" gaming token, from the slot machine of the same name.
In fact, this is just one of series of gambling-themed token designs at Sam's Town.
In a recent visit, Claire and I joined forces and managed to walk away with a handful of shiny coins. Thanks to this win, we also left with a little profit.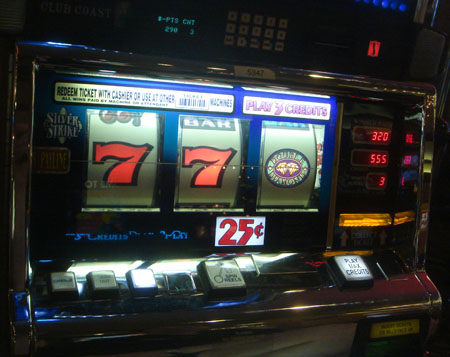 Seven – Seven – Double. Three sevens is 160 quarters, doubled makes it 320 quarters, and divided by 4 gives $80.
It's not huge, but the only possible bigger wins on this machine are Seven – Double – Double ($160) or Double – Double – Double ($500 jackpot).
Usually it's a slow (losing) grind until you hit the "Silver Strike" symbol on wheel 3, when things start spinning and a shiny coin pops out.
There may still time to complete this particular collection, but invariably there's one design that is ten times more common than the rest so you actually have to win dozens of tokens before you're close to getting one of each.
In the case of these tokens depicting gambling games, we cashed in a handful of Roulette tokens and another Blackjack one, and we still need Keno, Poker, Craps and Slots. It's going to be quite hard work.
Another machine was giving out another set of tokens, this one themed after Mystic Falls Park – the atrium at Sam's Town that looks a bit like a wood with dodgy animatronic animals and an occasional fountain show that's just like at the Bellagio, except there's only half a dozen jets. To compensate, they add a laser show at night.
It's actually quite a cool place, and it's a perfect escape from gambling right in the middle of the casino. Natural light, water, plant life and a stuffed bear that turns its head erratically now and again to a looped "roar" tape. You'll soon forget how much money you just lost.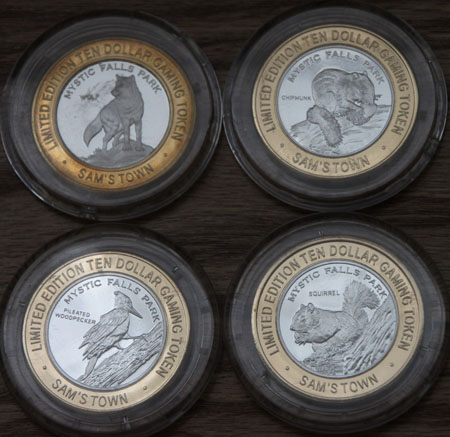 Unfortunately, it seems that "Silver Strike" has become a misnoma, because the majority of these tokens are no longer made from silver – they're silver-plated brass. It took a while to notice this well-disguised sticker on the machine but the confession is there.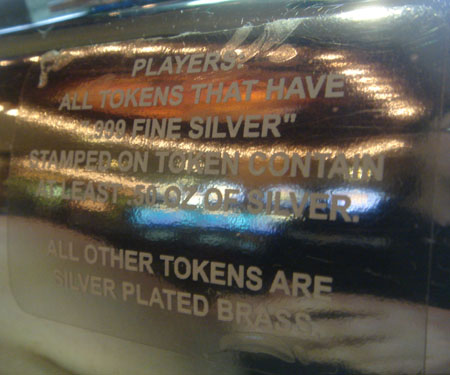 In the picture above, only the wolf (top left) is an actual silver Silver Strike. It's very difficult to tell just by looking (although the light certainly reflects differently in that photo) but while that one does say ".999 fine silver", the others are simply stamped with the letter "S".
There used to be at least one Silver Strike machine in just about every casino, each with their own collectable token or a range of tokens. You don't play this particular slot game to win money, you play it to collect a piece of memorabilia from the casino and in theory it's a big winner for the casino because every $10 payout should cost them less than $10 – and that's in addition to their edge on the machine.
However this is actually one of the very few slot games that can be considered a winning game for the player. It's a bit of a stretch, but for a collector who values the tokens at more than $10 each, or for a shrewd player who seeks out the rarer tokens that he can sell at an inflated price, you can overcome the house edge on the game.
Back at home, we have a bag of Silver Strikes from dozens of different casinos. It weighs a ton. I dread to think how much it's cost, and you can be sure that over the long term each one has cost more than the ten dollar face value but it's a pretty cool collection.
It's a bit of a shame we haven't come up with a way of displaying them and they are, literally, kept in a bag.
Silver Strikes are, sadly, a dying breed. The rising cost of silver has been blamed, with the cost of manufacturing the ten dollar gaming tokens becoming prohibitive.
A quick search on eBay will show lots of tokens from the casinos all over Las Vegas, including most of the big name Strip resorts. However, right now, as far as I know the only casinos in town that still have a Silver Strike machine are Sam's Town, Palms, Four Queens and Planet Hollywood. Two locals' joints, one Downtown casino and one Strip resort.
For a while, the Fremont casinos offered a slightly larger token with face value of $40, which briefly looked like it might be a resurrection of the game but it didn't last long. Maybe these cheaper, silver-plated tokens are what's needed to get Silver Strikes back into every casino.
While I'm glad to see that at least a few casinos are still producing new collections of Silver Strikes and optimistic that they might be coming back into style, it's a little disappointing that they're no longer actually made from a precious metal.
Bronze Plated Strikes just doesn't sound the same, does it?