I was delighted today to see that a Las Vegas landmark has returned to its former glory.
Luxor is, once again, just a big black pyramid. It looks magnificent.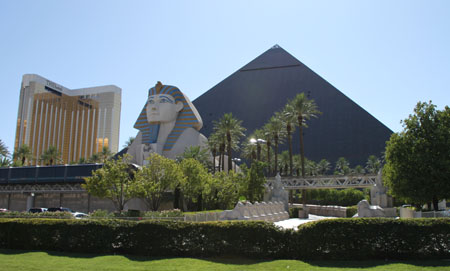 For several years now, the front side of this iconic building has been violated by some kind of advertisement as part of the growing trend in Vegas to ruin the exteriors of the hotels by turning them into gigantic billboards.
Most recently, and until today, Luxor has carried an advertisement for the latest Transformers movie. This wouldn't be quite so ghastly if there was some connection to the resort. I thought, perhaps, the movie was being shown on the Luxor's IMAX screen – and then remembered that the IMAX was dismantled last year to make way for a positively non-Egyptian exhibition of stuff from the Titanic and some human corpses.
In the past, they have used building wraps to advertise their own shows: Criss Angel "Believe" and Hairspray. It still makes it look nasty, but I don't mind this half as much as just random commercials being plastered over the walls.
The Luxor is not that dominating along the Las Vegas skyline during the day. There are many newer buildings that are much taller. However, even the small ones in Las Vegas are huge, and there are still times when it is the only thing you can see.
Giant black pyramid, twelve o'clock.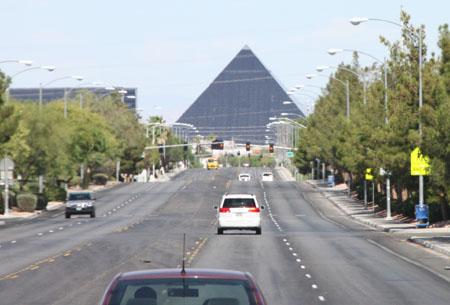 How much better is the view above than it was earlier in the week, when it was also spoilt by a crosshair pattern (this had been added to three sides of the pyramid) as a way to entice potential advertisers?
This is why, sadly, I have little confidence that all black will remain a permanent look for the Luxor.
All four sides have been cleared, so chances are something new and tacky is going up all the way around.
It's at night when Luxor really shines. Literally. You can see the Batsignal from miles away (as well as from space, apparently) but it's most impressive close up, when you can see the animated lights along the edges of the pyramid shifting towards the peak, and then that impossibly bright beam poking out of the top and reaching upwards for miles.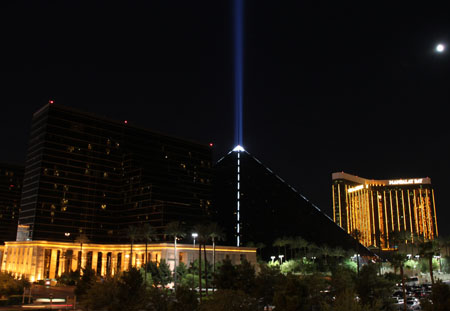 The last thing I want to see distracting from this is an enormous picture of a bottle of vodka.