The clocks have gone back, it's getting dark early and the weather's getting really miserable. Summer has been well and truly over for weeks.
Except in Las Vegas where it officially ends today – according to Terrible's casino, who are running the last pool party of the year.
Considering I'm already sick of hearing about Christmas, seeing this would have been a pleasant surprise even without the awesome picture of Mr Terrible in his swimming trunks.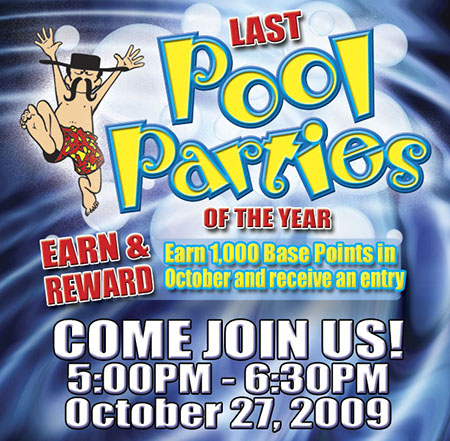 It's clearly not going to be Rehab and I doubt they've done any kind of deal to make sure there are some whores strippers there.
In fact, I wish I could go to see what kind of turnout they get to a late October pool party at five on a weekday evening where the price of admission is a thousand slot points.
That's worth just $3.33 when you spend it on beer or donuts – and even less at the buffet – but it's probably high enough to weed out most of Terrible's clientele.