Perhaps this is the reason my PC has been overheating lately.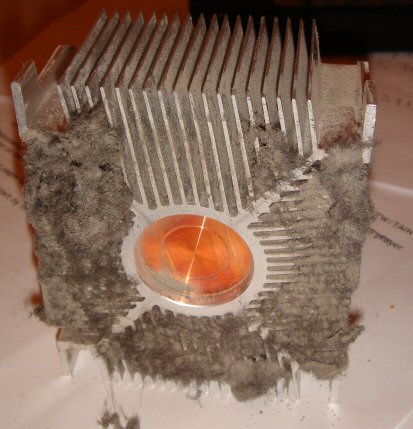 I knew something was up, it grinds to a halt on occasion – most often when I'm caning it with Poker Tracker imports! – and then I'll reboot to see the CPU at 80 degrees, panic and shut it down for half an hour to recover.  I could see that the fan was spinning, but hadn't really bothered trying to fix the problem yet…
So today I actually decided to take a look and see if there was anything obviously wrong.  It was, in fact, pretty obvious.  This picture shows the cooler after I'd started scraping the dust out of the fins on one side.  The top was totally covered in crap and would have stopped any air from being sucked through the heatsink at all.
My PC maintenance skillz are not what they used to be, so I'm slightly chuffed at this result.  I guess we still have to wait and see if it runs hot though…