I just got back from seeing a Las Vegas show.  In Birmingham.
Elton John is taking his Red Piano show on tour and tonight was the first night.  In fact, the only other time it's been played outside of Caesars Palace was a one-off at the dome last year for Elton's 60th birthday.
I've seen this show twice in Las Vegas and loved it.  Fortunately, it travelled pretty well.
I wasn't so sure at first, as it looked like a bit of a half-hearted effort to cram in some of the props.  The NIA has about triple the capacity of the Colosseum (13,000 vs 4,100) and felt ten times the size, but the stage wasn't custom-built for Celine Dion and her 20,000 acrobats so it's not quite as accomodating.
Before the show started it was pretty easy to spot where some of the gimmicks were only half concealed.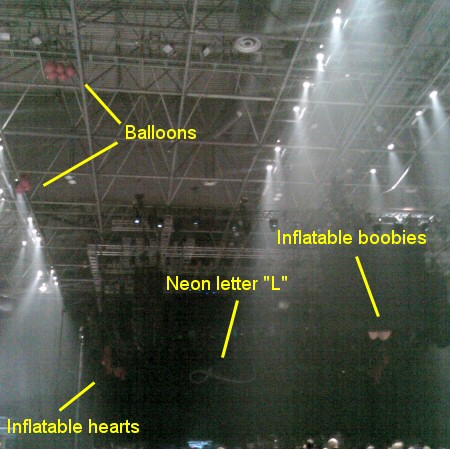 I'll admit the balloons weren't exactly meant to be concealed.  They drop from the ceiling during Pinball Wizard for a sort of interactive multi-ball kind of effect.  However, what you can see here is exactly half of the total number of balloons that were rigged to go off.  It's like eight on each side of the arena.
It seemed like such a crappy token effort that I wondered whether the touring production of the show would really have the same impact.
Yes it did.
The video screen covered the entire back of the stage and there's no doubt that it's the visuals that make this show something special.  They still looked enormous, even from about three times as far away from the stage as the cheapest seat in the Colosseum.
Elton actually said that the stage was the same size as at Caesars, but it was definitely a bit smaller.  There was visible congestion between the inflatables in the finale, but they did just about manage to squeeze everything in there.
Those amazing blow-up breasts always hung on the stage itself in Las Vegas.  Here they were dangling from the arena ceiling.  You'd totally miss them if you were sitting in the front few rows, and that's a damn shame.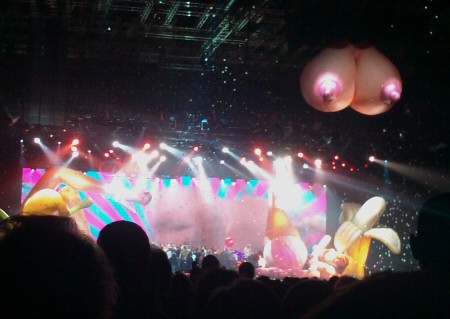 Yes, it needs two spotlights.  One for each nipple.
There were two songs I definitely don't remember seeing before, although there could have been more because the whole thing lasted almost two hours, rather than having the 90 minute curfew in Vegas to make sure nobody spends too long away from the casino.
I presume he included all the songs that have been part of the show in the past, even if they're not part of the latest incarnation.
I'm sure I would have remembered Goodbye Yellow Brick Road, and the bizarre – apparently autobiographical – suicide-leads-to-dancing-bear-incident visuals for Someone Saved My Life Tonight.
The previous link is for the full film that was projected in the background during that song, but you'll have to confirm your age with YouTube to watch it.
Which brings me on to … kids.
Don't take them to Vegas.  And don't take them to a Vegas-themed show.
To be fair, the blurb on Harrah's web site does say this about the Red Piano show:
Please note that The Red Piano is designed with a Las Vegas theme and mature audiences in mind. The video imagery that accompanies the music may at times be considered risqué, and includes montage style scenes that include brief frontal nudity.
However all I could find on the NIA's site is:
The theme throughout The Red Piano is love, symbolised by the colour red and articulated through the songs and state-of-the art effects and high-end imagery.
So that could explain why parents might think it's a great idea to take the family to see this show.  It isn't.
Firstly, "brief frontal nudity" is something of an understatement.  There are a lot of naked boobs in the show.  It's all very tastefully done, of course, but the tit count is high.  Almost every song has at least one pair.
Then there is plenty more blatent sex, drugs and other such rock and roll shenanigans.  Pamela Anderson does a pole dance.  Among the neon signs that litter the stage is one that simply reads "sluts".  And I already mentioned the suicide bit.
I saw several families with young children in the audience.  I didn't see anyone walk out, but there might be one or two awkward questions before bedtime tonight.
As for what those 16 balloons actually looked like during Pinball Wizard, I just don't remember.
The backdrop for this song is the most amazing Las Vegas montage of aerial shots, neon close ups and gambling scenes, cut at super high speed around shots of pinball machines going crazy.
I was transfixed: partly feeling homesick and partly trying to work out what's still there and what's been blown up or ripped down since they filmed it!