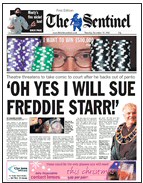 The guys from the Sentinel apparently spent all day yesterday trying to get hold of Claire for a quote, causing much embarassment in the classroom. "Miss, your phone's vibrating". Repeatedly.
She never got chance to talk to them but it looks like they've run the story anyway. I'm right there, above a story about the panto.
http://digbig.com/4qhdr for the full story.
I think it was a wise decision not to show my full face in either photo.