Plane landed on time, once I finally got there.  That's the last time I let someone organise a ride for me, as my limo ended up nearly an hour late, and I was getting just a little flustered.  The flight was half empty and I wasn't the last to get there, but I had no time to eat.  Aside from some snackage in the green room and picking at plane food, the last thing I ate was Saturday morning, a horrible greasy breakfast skillet thing at Imperial Palace .  Ready for a curry!  It took a while for them to assemble the staircase to the plane.  Either there was no proper gate available or the pilot had missed the jetty by a mile.  We piled out onto the tarmac, with everybody managing to refrain from kissing the ground.
If you'd told me any time this week that I'd be spending my last night in Vegas at Pure I'd have laughed in your face.  But after the trip back from Downtown to Caesars in the party limo bus (it was a long trip, but it could have been longer – the coolest vehicle I've ever been in) I joined some of the other losers and their friends and did just that.  I could call it camaraderie, but mostly I think it was just that we all wanted to go and get drunk.
Yeah, I lost.  No real spoiler there, you know I'd be bragging much sooner if I'd won it!  I think I'll post some hands I remember separately but still before I get to see the show.  Although it went out in the USA whilst I was flying, it should be on late Wednesday night here but it's not showing in the Sky EPG at all any more!  I might have to find a torrent in order to watch myself looking like a nervous donkey and probably folding the best hand too many times.
I wasn't sure that playing $20 roulette was the best way to get free drinks, but the game was kind to me.  And apparently we played briefly with Jim Belushi, although I never even noticed, so I'm starstruck in retrospect only.  I played four numbers and hit three of them in the first four spins!  Beginner's luck I'm sure, as all I've done before is the odd matchplay coupon and being an evil influence on Vij one time.  He'd gone to make a bet for a friend at work, just a $25 double or nothing bet on red.  When it hit, I managed to convince him that he could press it and go again.  Then if it wins he keeps $50 himself and pays his mate off too, but if it loses then nobody really knows.  Plus EV to be sure… 🙂  The next spin is black, of course.
I still have no idea how we got into Pure.  Seat Five, Trey Aitken (long "a", silent "t" – he wasn't going to get it misprounced on TV) did something or said something and then suddenly we were jumping ahead of about 400 people standing in line around the casino.  Par-tay animal Trey blew his $500 in chips the night before on table service with a bottle of vodka.  No table this time, but hey you can't have everything…  Welcome to the home of the $10 beer, but this place is something else.
Let's start with the fact that it's so damn big it needs an elevator.  You can jump right in and go straight up to the strip level balcony.  Which is fantastic.  It's not going to be the great city-wide view like you'd get at the clubs in Palms and Rio that are fifty something stories high, but it's right in the heart of the action.  Neon in your eyes and desert air in your face.  Just awesome.  And if that wasn't good enough, there's the Pussycat Dolls too.  Caesars' answer to the Binion Dollar Babes – a poor substitute, but they'll do 🙂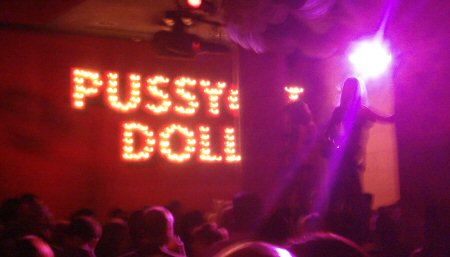 I have a ton more pictures as usual (actually 351 it says, not bad for a week's work eh) and some of them are even in focus.  Expect me to bore you rigid throughout the week!