This.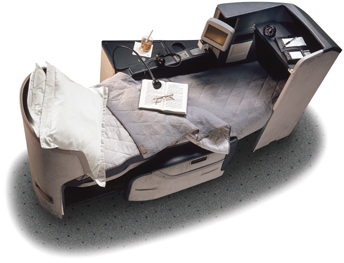 That's how I'll be travelling to Las Vegas next summer, thanks to the demise of BMI's long haul routes.
I thought they'd rebook me onto Virgin Atlantic, it being the only remaining airline that flies direct to LAS from the UK.  Their reaccomodation procedures also says they should do exactly that.
But no.  It's actually via San Francisco with United Airlines – but with a free upgrade to first class for the 11 hour stint.
The upside: how fucking cool is that bed-pod-desk thing?
The downside: Instead of arriving at midday, we now won't get there until after 9pm.
Oh well, it's not like I usually do anything useful on the first day anyway…