I've already jinxed myself by doing something as results-oriented as actually having a win goal and writing about it here.  I've just further done myself damage by waiting until the very second I passed the half way mark to take a screenshot of my graph.
A few minutes ago, I passed $1000 in profit playing only $50 NL on PokerStars.  The magic number was $1000.10, in fact.  Out came Poker Grapher, and here's the story so far.  All you graph lovers can click on it for the full size version.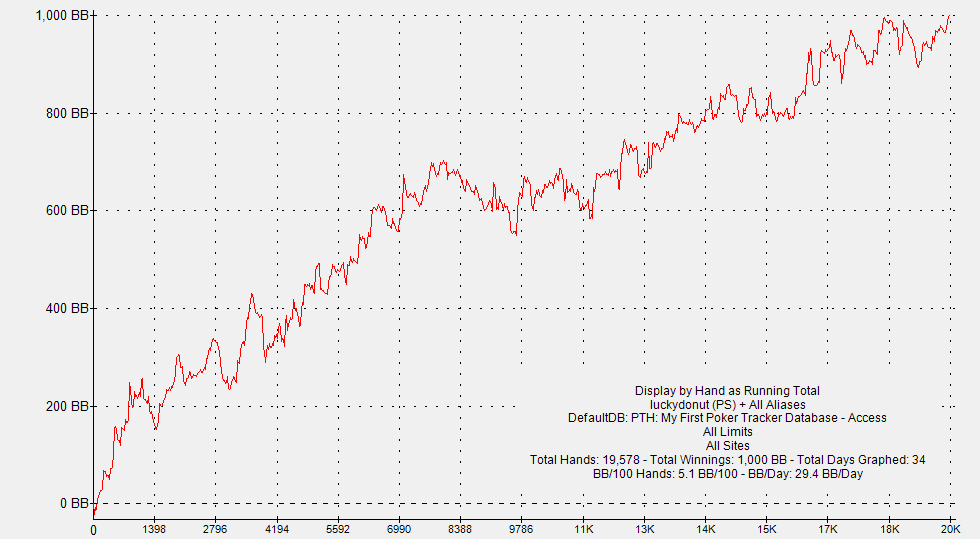 As you'd expect, I've since dropped back under a grand.
My win rate is clearly lower than it was at the last checkpoint.  It took under 6,000 hands to win the first $500, but over twice as many to make it to $1000.  My  overall win rate just clears $5 per 100 hands.  I'm getting very close to 20,000 hands played now, which is starting to resemble a decent sample size.  I don't know whether I should assume I ran hot to start, have just had worse than average cards for a while, or if overall 5BB/100 about right and it all evens out in the end.
The main thing though is that the line has kept on moving in the right direction. 🙂
Plenty of added value at Stars right now too.  Seeing as I only started playing $50 NL there to clear a bonus, I was pretty plesed to see another $150 reload bonus come along today.  This time it's because of the impending momentous occasion of their 10 billionth dealt hand.  In addition, there's a money aded tournament every hour, and FPPs clock up at twice their normal rate.
I'll easily make it to Gold Star this month now.  Double rakeback too.  Given that I've paid just over $300 in rake this month for enough FPPs to buy about £20 in Amazon gift certificates, I figure it's usually about 12% rakeback for a Silver Star player.  Should be about 16% for Gold Star.  Not the best by any means, but not a bad deal considering you don't have to jump through any hoops to get rakeback.