This is what happens when the Coke machine in McDonalds breaks down.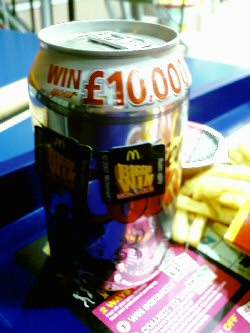 At least you still get the monopoly game tokens.  I'd have been lost without these, even though I did have a backup plan for monopoly gratification: I was sitting in a restaurant on Pentonville Road, just around from Kings Cross station.  Free parking nowhere to be seen though.
Today's haul included a free coffee and an Oatso Simple porridge that I'll never use.  Even if I ever do get to a McDonalds before 10.30, why the hell would I want a pot of porridge when there's perfectly good meat products on offer?