I decided to try something different while I contemplated my retirement from Gutshot's cash game with a perfect record.  So I went to The Vic instead.  Sitting proud on top of Argos – among all the retail space in Las Vegas, I can't think of a one casino that is connected to a catalogue store – The Vic boasts that it is "open from 11am to play on the slots".  If you need to gamble earlier in the morning – maybe to try to win enough to buy breakfast – a motorway service station is about your only option still.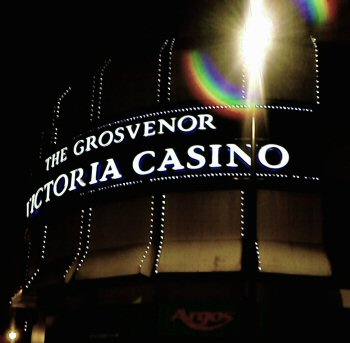 38 players. It was a quiet night with a travelling contingent of regulars apparently in Manchester for the GUKPTK.  9 spots paid. Yes, they really did pay 23% of the field.  9 get paid here whether there's 38 or 72 players.  At least it goes some way to offsetting the variance in this crapshoot of a tournament that you get for £50. 
The blinds double every 20 minutes right up to 200/400, before finally slowing down a little but by the time it's at 300/600 it doesn't really matter.  The average stack for this level was only about 4000.
So I had to get lucky, and the way I got lucky was to somehow survive to the final two tables without really seeing any cards worth noting, having much of the garbage I threw away making monsters and dumping marginal hands that appeared to be way behind but in fact were winners.
6 limp, and only I fold with my 23o.  Of course it would have made a full house on a 3342 board, with plenty of action from pocket tens and a J7 who hung around long enough to catch top pair on the river.  Later, my 88 looked like nothing on a K9x board with a bet and a call ahead of me, but not only was I in front (against ace-high and a flush draw) but the turn brought another 8 and the river gave me what would have been quads.  You would think the crappy hands in that pot would never pay me off, but I just can't be sure.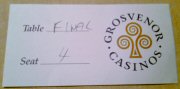 Down to two tables with still not many more chips than I started with, I picked up two decent pots by moving all in against a raiser and apparently having just enough to take it down uncontested both times.  Then I just blinked a couple of times while nine other players busted very quickly.  I'd only showed one hand (AK all in against another AK) the whole game right up to when I went out – obviously I didn't win, or I'd have said by now!
At the final table, three big stacks almost had enough to see flops and stuff.  Nobody managed to catch up, so these are the prizes I was actually playing for.
9th £60
8th £80
7th £100
6th £110
5th £150
4th £190
Only £10 more for 6th place than 7th, even though the bottom three prizes go up by £20 a time?  Obviously, once I'd spotted that 6th place was getting stiffed, my fate was sealed.
The perceived greatness of king-jack offsuit was all I needed to see to take a gamble after being whittled down to my last 2000.  I ended up in about as good shape as I could hope for, drawing live against A2 and AQ with an added bonus of 1200 in dead money from the big blind.
I'd not helped myself by making a super-weak fold with A8s when I should have pushed with 9 players left, simply because one of the short stacks would be forced all in next hand.  In fact he doubled up, and the ghost of Dan Harrington lingered as I walked home.  He was waving a little flag that said "first in vigorish" and kept asking what my M was.  I wanted to punch him, but he was a ghost.  Also a ghost of somebody who isn't actually dead.
£110 wasn't all I won tonight though… must be on a roll.