It's T-21 and the traditional jumbo-playing-cards-above-the-fireplace countdown to my next Las Vegas trip has begun: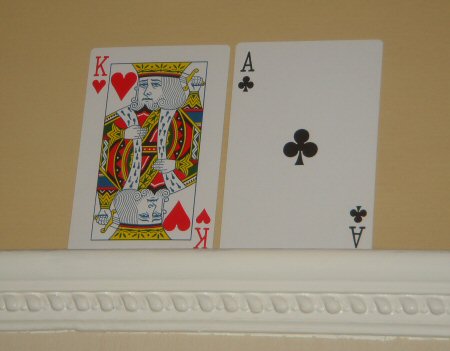 Everything is finally booked now and it's going to be a bit of a jaunt – four hotels in 9 days!
We start off at the charred remains of Monte Carlo for a pretty good $69.95/night.  With tax the total is $152.50, but the package includes $25 in food credit, $10 in slot play and $5 to spend at Starbucks.  I'm sure it will all get used!
Effectively that makes this stay just $112.50 – a bargain for that resort, but it's still three times as much as we're paying for the rest of the trip.  Six of the next seven nights don't cost a penny!
On Day 3 we drive out to the Colorado River for a complimentary night at Harrah's Laughlin.  We could spend as much time as possible here racking up Total Rewards credits on the video poker at Harrah's to try to extend that elusive Diamond status for another year.  Or we could play a better game at almost any other casino in town.
For days 4 and 5, we're back in Las Vegas at Terrible's.  It's a better-than-free deal: they're giving me $50 in free slot play just for showing up.  In fact, I have a feeling that Mr Terrible has a complex about guests actually showing up.  He charged a $50 deposit to my card (for my complimentary room) when I booked, and apparently I'll get this back at check-out.
So, if I actually turn up they give me $50 to play through their machines.  And if I'm still there two days later I get my $50 deposit back.  Really, the place isn't that bad.
From day 6 we finally stay put for a few days.  It's four nights at the Four Queens, three of them comped and one more for just $35.  Claire arranged this all over email, no credit card required even for the paid night.  Apparently a little bit of video poker play goes a long way here still.
She did get a second offer for three more nights in April, which is just too late for this trip.  However the same mailer also has an offer another $40 slot play for free though, which it looks like she will be able to claim on the morning of April 1st, just before we fly home.  Lovely.
So all in all, we have all 9 nights booked for a total cost of about $190.  But there's $130 coming back in food credit and slot play!  Not quite the totally free trip we were aiming for, but it's getting closer!