It's even worse than I first thought.  Harrah's really don't like me any more.
My latest batch of casino mail just arrived.  I get three weeks worth forwarded at a time and the only free room offer this time was for a mid-week stay.
As I've been on the mailing list for a weekend promotion of some sort for every single weekend for the last three months, this pretty much spells out how worthless I am to Harrah's as a player.
Which, of course, is completely true, I just didn't expect them to realise quite so quickly.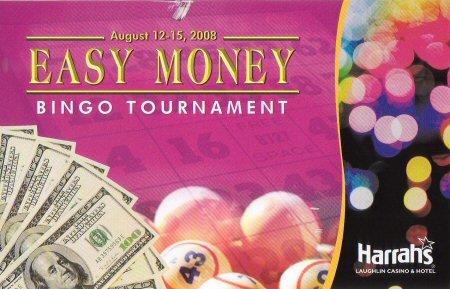 I'll paraphrase this excellently targetted mailer: "Dear mid-thirties male player, why not join us for a bingo tournament".
I did try playing bingo in Las Vegas once.  I wasn't welcome, on account of me having both a Y chromosome and my own teeth.
Then again, I probably shouldn't take too much offense at this.  At the poker tournament I played there last month about 95% of the field would never ordinarily play poker.  Unfortunately.
I also got a letter with another less-than-fabulous offer:
"Experience the jewel on the Colorado River in VIP style! August marks our 20th Anniversary and Harrah's Laughlin is inviting you to help us celebrate with a vacation for two, including a round-trip charter flight and deluxe accomodations"
Sounds OK so far, but …
"Starting at just $149".
Right…
"Price based on double occupancy (additional $50 charge for single occupancy)"
and to top it all off…
"While you're here, be sure to check out legendary performer Earl Turner in the Fiesta Showroom August 16-28.  Tickets start at just $17.95 and are on sale now at our box office."
So, they're inviting me to fly, stay and see a show – and pay for it all myself.
The bloody cheek!
I've had flight offers in the past for charter jets departing various random locations from coast to coast.  Because they think I live in Southern California (my mailbox address is in Huntington Beach) the flight is from Long Beach only – hardly a cross-country trek.
I've been able to book up to 5 consecutive comped nights at the hotel through the harrahs.com web site, in addition to all those mailers with three-night stays included.  If this deal requires a surcharge for single occupancy then I'd certainly be paying something towads the room, wouldn't I?
Some of those room offers included show tickets too.
This is definitely not a good sign.
This, however, is what a great room comp should look like: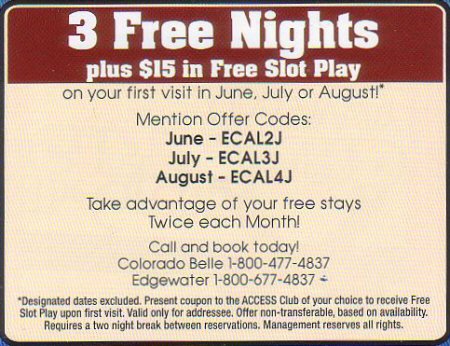 3 nights at the Edgewater or Colorado Belle, twice a month, every month.  And $15 for showing up.  It didn't take that much play to get on this list.
Claire also got one from River Palms for two 2-night comps with and $10 slot play and all she ever played there was enough to get a free chicken sandwich, which was ridiculously easy to earn on a positive expectation machine.
Even without any love from Harrah's, it would actually be pretty easy to live in Laughlin completely free by hotel-hopping.  If you wanted to.