Here are my (let's not say fake, how about visually creative?) pictures of the PokerStars monkey "in" Las Vegas.
The idea I had was simply to capture a reflection of neon in his eyes. I started off with an extreme close up (this is the full frame from the camera):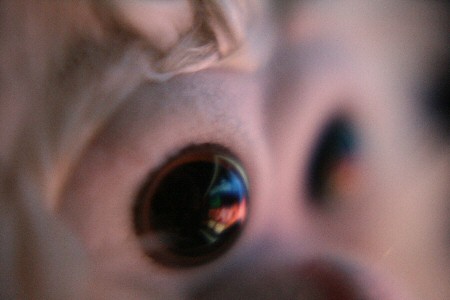 This one fell out of contention pretty quickly. I can tell what the sign is, but I doubt anyone else would recognise it. It's actually one of my favourite signs, which is from the side of the Golden Gate. It simply states the three key selling points of the hotel: "Restaurant, Bar, Jackpots."
However, if you can't tell what it is, the concept fails.
So for the second try, I picked Sassy Sally. She's not quite the icon that Vegas Vic is, but I thought she would still be recognisable – and sitting with her legs outstretched she is much better suited to the orientation of a monkey's eyes than a standing cowboy.
So, tell me, if you squint really hard, can you see what's going on here?
It's not as clear as I'd have liked and you pretty much have to know what you're looking for, but I think there's enough of her reflected to recognise what's going on. However, I love how the picture turned out anyway. It's a decent portrait of my beloved Monkey, and the little bit of Vegas in his eye is just a bonus.
Here's a close-up, in case you still don't get it.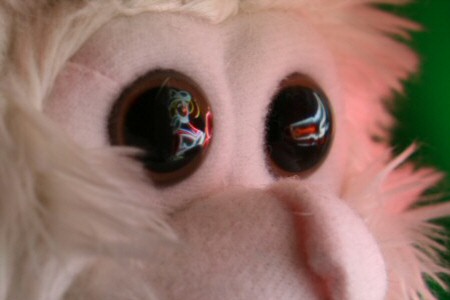 Eventually I realised it was going to be impossible to get something that was obviously Las Vegas to reflect recognisably in his tiny eyes.
The solution: sunglasses, of course! The first pair I ordered online smothered the poor thing, but I dropped on some tiny mirror shades at Build-a-Bear workshop just in time.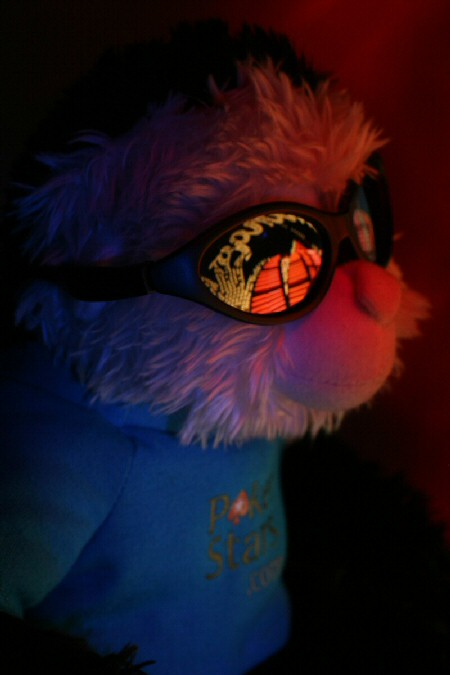 You would not believe how difficult it was to get anything resembling a pink glow on his face using the equipment I had to hand (a pink light of some kind would obviously have been useful…), but persistence paid off and a few hundred exposures later I had one I was happy with.
Anyway, right now Monkey and I are in transit to actual Las Vegas. Stay tuned for the usual ramblings.