I can't remember the last time it was dark when we arrived in Las Vegas, but the unortodox choice of route for this trip made sure that this time we got to see the lights from afar. MAN-PHL-PHX-LAS might have got us plenty of Diamond Club miles but it made the total journey time door-to-door more than 24 hours.
It was dark when we came in to land at 8pm, just as dark when we finally left the airport at 9.30pm and felt like it must almost be time to start getting light again by the time we finally made it to the hotel at 11.15pm.
It really didn't help that US Airways put one of our bags (just one, mind) on the wrong plane. With two changes of planes, and one with only about an hour stopover, I was expecting a fairly high chance of losing something. However, it turned out to be the same plane all the way through from Philadelphia to Phoenix and on to Vegas (we left the hand luggage on board, stretched for 15 minutes and got back in the same seats) so at least the bags weren't going to get lost in transit at Phoenix.
We'd even caught a glimpse of one of our bags through the window as they were being loaded in Philly, proving without a doubt that my idea to stick dayglo tape all over a suitcase does indeed mean you can see your bags from almost literally miles away.
However, only one shiny disco bag actually made it onto the plane, the other (identical, and also sporting fluorescent go-faster stripes) was left behind, then sent along on a later flight, leaving us to suffer 90 minutes of looped adverts for half a dozen different shows – all the self-proclaimed best in town and apparently unmissable – while we waited for it.
Otherwise the flight was fairly pleasant and the food was also edible, with a salad that was still crispy and a pork main course that hadn't turned to rubber. I was actually quite impressed.
US Airways' business class seats aren't as good as the fully flat recliners we had last year with BMI, but they're comfy enough. Apparently the cabins are being upgraded to lie-flat seats later this month.
In other US Airways news, they also start flying from Birmingham to Philadelphia in May which will open up a new route from the UK to Las Vegas to help spend all those lovely miles I accrued with BMI before they decided to axe all their flights to the USA.
Another thing that didn't help with the overall travel time is that we had to wait in line for car rental for an hour. This is pretty standard with Dollar when it's busy but I thought it would be much quieter than it was. Seriously, who arrives in Las Vegas late on a Saturday evening? Apart from me, obviously.
Dollar has a huge desk but there's rarely more than 3 people serving, and they'd all lose their job if they didn't try to sell you a dozen more insurance that you haven't heard of and don't really need. This is obviously much more important than trying to keep the queue moving.
An English guy just in front of us had reserved two week's rental online for $400, only to be told the total was over $1200 when he got to the desk. They obviously see us coming, unfamiliar with the insurance requirements and jargon, and too tired to argue. This is why I always have a fully inclusive prepaid booking now, so you know what you're getting up front and can just shake your head at any questions rather than have to try to construct a sentence after nearly 20 hours on a plane.
When we finally arrived at Four Queens, check-in was, thankfully, instant. The room is nothing special, but it's right next to the elevator for speedy access to and from the casino, and it also has a Fremont Street Experience stage view.
I'm not sure if that's meant to be a premium feature, the kind of thing you might slip them a $20 to try to get, but there was just happened to be something different going on tonight: Leanne Rimes live!
Not one the usual tribute acts that entertains Fremont Street passers by, but actual Leanne Rimes who had the whole street watching her.
We heard The One From Con Air as we parked up and she was doing The One From Coyote Ugly when we got up the the room.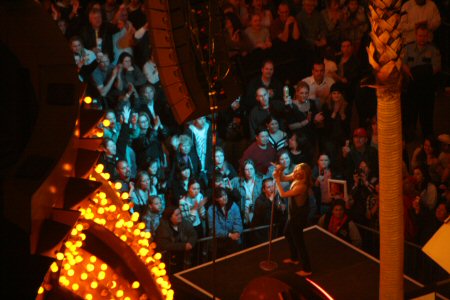 I think she'd been to see Blue Man Group earlier that evening. This is Rock Concert Movement #6 :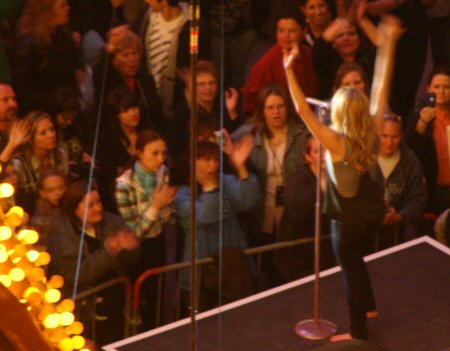 We listened to the end of her show (to be honest, we didn't have much choice) and crashed out. Gambling and stuff would have to wait until the morning.