When Claire booked our completely undeserved three-night comp at the Wynn, they told her check-in was at 4pm.
So we figured that when a pair of freeloaders turned up at midday, hoping to get to our room early, it was pretty much a long shot with very little chance of success. We were already prepared to dump the bags with the bell desk while we went gambling elsewhere.
Amazingly, there were no problems at all. There was a room waiting for us, as well as a letter explaining how to claim the free $200 slot play (which, clearly, is also undeserved). Smooth as clockwork and very impressive.
I don't know quite how many guests in the hotel right now are paying in the region of $300 per night, but I guess if you are this is the kind of service you expect and, techincally, there's no reason why we should be treated any differently.
It just all seemed too good to be true until we actually got the key. This unbelievable offer is actually for real.
I've taken a hideous number of pictures (because, let's face it, this is the only chance I'll ever have) so stand by to be bombarded.
How this curvy building looks from the inside:
Our room on the 24th floor (about half way up; floor numbers go to 60 but 4, 13 and 40-49 are omitted for superstitious reasons):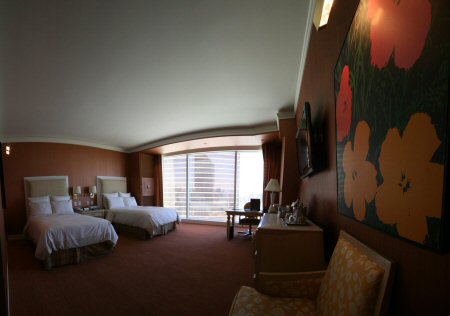 No strip view (come on, the room is totally free…) but we have a view of the golf course and Paradise Road. You can see the Convention Center in the middle of the photo, and the Las Vegas Hilton is just to the left of the frame:
Bedside stuff, including an alarm clock with ipod dock. The switches on the wall are for lights and curtains.
The cordless phone on the bedside is one of three in the room (plus a separate fax machine at $8/min to send and $2/min to receive). There's another phone in the toilet (of course) and one on the desk with a fancy colour menu display. At the top it shows "Warran John Buchard" – it's either greeting a previous guest or you press there to call up a celebrity chef I've never heard of.
The scary minibar, which lets you pick stuff up to see what it is, but not for very long because it automatically charges it to your bill after 60 seconds:
Minibar prices. $8 cookie, anyone?
Bar kit. No plastic cups here. We have BYOB'd, of course: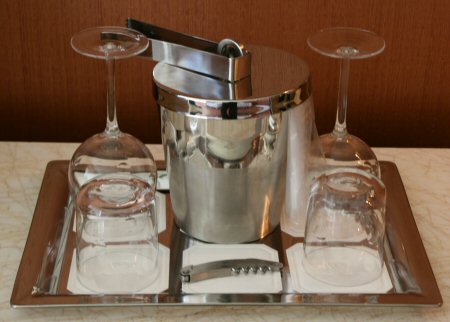 While many hotels have remodelled rooms with a widescreen plasma TV, the Wynn is the first I've seen to actually carry TV channels in proper high definition, not just standard definition channels stretched to fit a widescreen picture. This is obviously a bigger deal to me than it should be, but stretch-o-vision is one of my pet hates.
The TV also has its own Wynn remote control:

And a Wynn-branded EPG: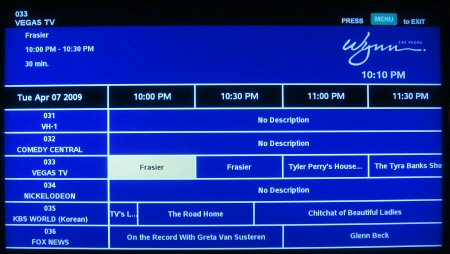 You can even keep an eye on the poker waiting lists from the room: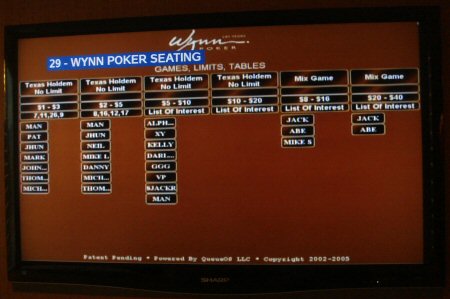 The bathroom has two sinks and a shower separate to the bathtub: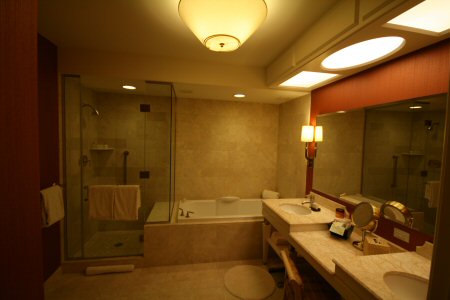 As well as the usual soap and shampoo, they provide stuff like cotton buds and shoe polish: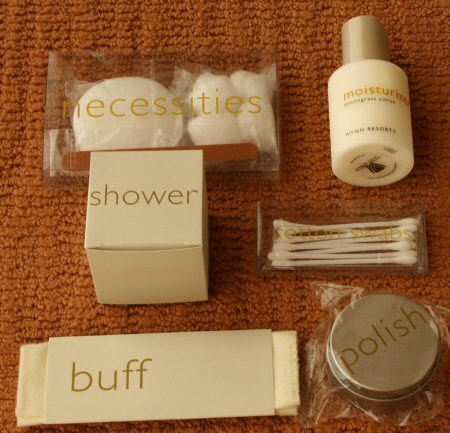 There's also a set of bathroom scales – which is the last thing you want to see after an all-you-can-eat buffet – and no bathroom would be complete without its own television: