Just in case you needed proof of our VIP status at the Four Queens, here is the official documentation.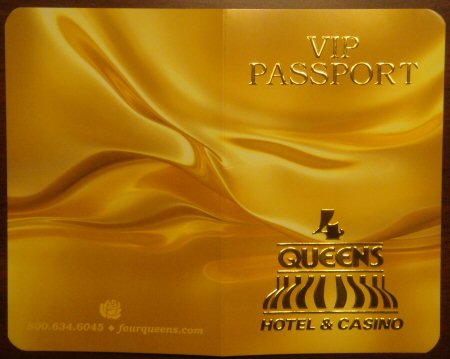 The inside of the "passport" outlines what you can eat for free (click to enlarge).
There's absolutely no way we'll eat close to the daily allowances – especially as yesterday's late arrival cost us a free lunch – but it's a pretty sweet deal nevertheless.
With all the stuff we've charged to the room so far, here's what shows up on the bill.
We went slightly over the $15 allowance at the deli and only the difference appears. There's no trace of the other food at all – it just disappears!
I have to admit that I didn't even realise that Four Queens had a deli, and having now experienced a fantastic pastrami sandwich I realise the best way to play this comp is to eat breakfast early, get a sandwich to go from the deli for lunch on the road and then get back to the hotel for dinner. If only I'd realised that yesterday…