It looks like there's still some work to be done on the upper floors of Monte Carlo following the fire earlier in the year.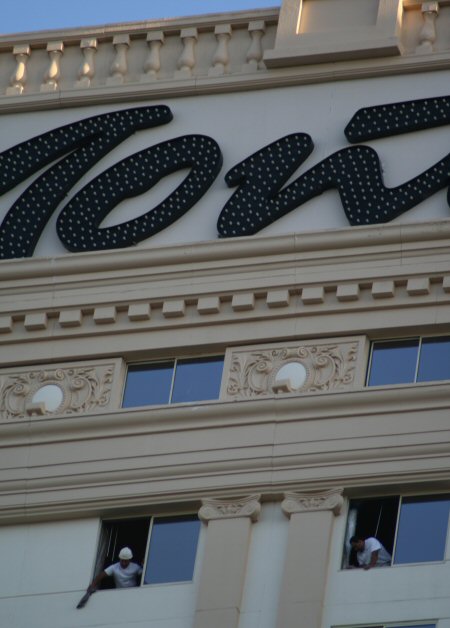 But this really doesn't get in anyone's way, 36 floors up. It's the construction of the monstrosity that is CityCenter next door that's making life difficult.
With sections of Frank Sinatra Drive closed off while they build, there's really no other route than to drive down the Strip to get to Monte Carlo. Which was fine in the early hours of the morning while I was getting up jet-lagged, but any later in the day and the traffic around there just gets horrendous.
Not to mention the dozens of pedestrians at every set of lights that look at the red hand on the crossing sign through the blue drink in their dice-shaped glass and see some other god-knows-what symbol and colour pairing that apparently always means they should cross whenever they feel like it.
There is also no access to the garage right now.  The only place to park a car is a makeshift outdoor lot next to New York New York, and it's not even close to being big enough. When it takes 30 minutes of circling to get a spot on a Tuesday morning you know they're going to have major problems with this. I'm just glad I didn't try to spend a weekend there.
So what about the hotel itself? First impressions go a long way, and unfortunately they weren't particularly good.
We decided to valet park and hoped to get some assistance with our bags after a long flight, but the valet jumped straight into the car and waited for us to unload the bags and that was that. We juggled everything together and strolled past two bellmen rolling a cart back and forth between themselves on the way into the hotel, who eventually thought to ask if we needed any help with the luggage.   I declined as politely as I could: "It's OK, we've done the hard bit now".
The room (on floor 13, can you believe – how many hotels in Las Vegas
even have that floor number?) was fine and did the job, but it was nothing special and felt like it was about due for some modernisation. Also, I blew the food credit that came with the room package on room service on the first night and that took well over an hour to arrive.
Overall slightly disappointing. I guess I just expected a little more from a hotel I was actually paying for.