My investment in achieving Total Rewards Diamond with Harrah's is already starting to pay for itself.
I just had to flash the card at Venetian and instantly got an upgrade to their own Gold level.
Oh, and the $50 in slot play for upgraded members was a very nice bonus too. We'd only stopped in to get $10 free play for Claire as a brand new member, but walked out with $55 of their cash after playing it through.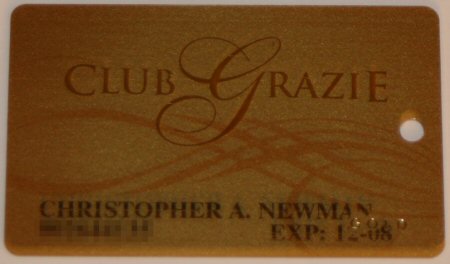 Gold is not the top tier of Club Grazie but it's enough to get access to their VIP lounge and it'll rack up slot points a little bit faster if I ever play video poker there. They do have 9/6 Jacks or Better at both Venetian and Palazzo, although even with the points multiplier it doesn't quite make a positive game.
I'm hoping one other hidden benefit might be when playing poker if I make sure the card is in view when sitting down at a table. Anyone who is paying attention will clock me for the big gambler that I am, then all I need to do is make a big hand and the monies will flow even faster than usual.
We crawled along the strip by foot on a free money run from Harrah's ($5 bonus comp for 50 points earned) down to Sahara ($50 in blackjack chips for a $40 buy in) via a complimentary hot dog at Slot-a-fun.
Casino Royale told us that we should have had room offers in the mail for this month, and it's nice to know we're still in the system but not much use when we've already booked places to stay. Oh and look, we're already in town too. But they explained because two of us are have qualified for mailers – usually a 2 or 3 night free stay – we can combine them and take 4 or 6 nights in the same room if we book at the same time.
In fact, as the offers are one stay per month if we were ever able to time a trip over the end of one month and the start of the next we could take up to 8 or 12 nights free all in one go!
This has to be the best hotel offer in town – to get into the comp system you only have to earn about $10 cash back, which is about $2000 coin-in. Play it through on 8/5 Bonus Poker at 99.2% payback and it costs a theoretical $16 for the mailers, and I'm pretty sure it racked up at least $10 in food comp as well as the $10 cash back.
They're virtually paying you to stay there before you get started!