Driving through the desert is always so much duller than I remember – and in this regard I seem to have a particularly short memory. I'd already forgotten just how boring it was when we came to drive back from Laughlin to Vegas after staying out there just one night.
This is a relatively short drive too, about an hour and a half on a good run. There's a few miles of twisty mountain road that make you wonder why they didn't just drill through the bugger, then about an hour of nothing but a straight line before you finally hit the freeway and civilisation is in sight.
Actually, you can't beat the view of Las Vegas when you approach it in this direction. As you turn a corner, high up in the nether regions of Henderson, everything is visible right in front of you; the entire Strip from Mandalay Bay to the Stratosphere and the major downtown hotels all in view. One day I'll figure out a place to pull over and get a picture of it all.
Harrah's Laughlin was a fine hotel room, and all the better for not costing a penny. I'd picked a room with a river view, and that did exactly what it said on the tin. We were a little early checking in but it didn't matter because I flashed the Diamond card and used the VIP desk. We got checked in and went to play and sample the buffet while the room was being prepared.
Every day is brunch day at the buffet here, and so I managed to get eggs benedict and pepperoni pizza on the same plate. Yummy. At $11.99 each it's a little pricey for Laughlin but it was so good we ate it twice and enjoyed the Diamond/Seven Stars seating area which also featured actual glassware. Very fancy.
I'd like to have been able to compare it to the mighty $2.99 breakfast buffet at Edgewater but that plan was foiled when we saw the queue was the entire length of the hallway – and back again. It's on the todo list for next time.
We did get a cracking food comp was at River Palms though, a chicken club sandwich meal special (including fries and a drink) from just $500 coin-in on a positive pay video poker machine. Menu price: $8.75 – there aren't many slot machines that wouldn't make that one pay for itself, but on a +ev video poker game it's great. Theoretical win: $3.80.
The best freebie though was the stuff that someone must have broken into the room to leave for us. We returned at night to find a gift basket on the bed containing fruit, pretzel sticks and a chocolate truffle bar…
… and there was a pack of freshly baked filled cookies.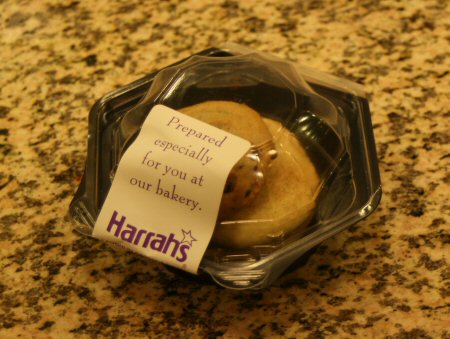 Food is usually an easy way to please me, but bringing cookies (which were gorgeous) to my room as a surprise bonus gets top marks. A+, would eat in bed again.