I must really have more hotel rooms than I know what to do with if I'm actually cancelling a reservation at Caesars Palace that cost me nothing.
It's a reluctant cancelation. I'm sure it's a fine room, and I already know the toiletries are worth swiping. Caesars lemon grass shampoo was one of my favourites from the big bag of stolen soap-n-stuff, and sadly I've now run out. But it just doesn't fit well into the trip when other freebies will work much better.
T-3, by the way. We fly on Saturday on a route that seemed a great idea at the time (MAN-PHL-PHX-LAS) but I'm sure we'll end up regretting.
Four Queens had sent Claire a flyer for a special Chinese New Year promotion, with a great 3-night deal valid until March 31st. In addition to a jeweled ox (which would go nicely with the jeweled rat we got with the same deal last year). They'd feed us the whole time, including one meal in Hugo's Cellar, and give her some free money.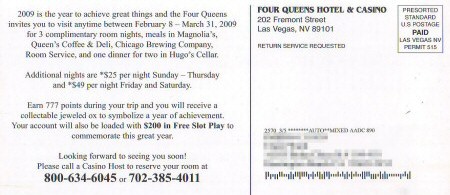 Then we also had a letter addressed to us both offering the same kind of deal for the weekend after we leave town (click image to view full letter).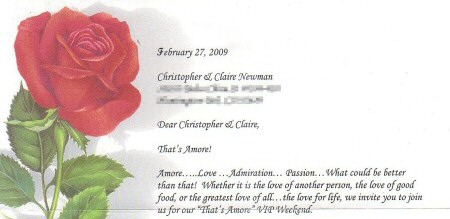 This is both good and bad. It's a great package – free room, unlimited free food and free gambling money is better than anything we've ever had before – but this letter does show that they've figured out that our accounts are connected and are offering us a joint package.
We deliberately never ask for a joint player's club account and we've already had some mailers twice. It looks like that might not last now though.
Anyway, if you don't ask you don't get. So Claire emailled a random host to ask whether they could be flexible on the dates for either deal. In fact, there was no need because apparently a mailer has gone missing somewhere along the way:
Hi Claire,

You did receive a mailer that gives you 3 free nights with room and food at Magnolia's ($30/day), the Deli ($15/day), Chicago Brewery ($40/day), Room Service ($20/day), and at Hugo's ($150 one time only) plus $250 in Free Slot Play for the dates of April 1- May 31, 2009.

Thanks,
Sara
With $250 free play, it's actually an even better offer than the other two! Not only that, but she spells out exactly how the food allowances work, which is very handy to know.
It's definitely going to be a challenge to eat my way through four different daily food allowances and one meal in their gourmet restuarant. You can tell Hugo's Cellar is a classy joint when the menu writes out the prices in words. Steak with extra crab legs on the side? Yes please.
Then there's the Wynn. We're accepting their invitation for 3 free nights and $200 in slot play. We really won't appreciate a 5-diamond hotel, and the choice between this Wynn offer or using a comp at Casino Royale was closer than anyone could ever expect, but $200 in free play just about swung it.
Finally we have 5 free nights lined up at the Rio, which I booked before Christmas. At least I hope we still do. I received an email this morning, following up one that had apparently been sent last month that I missed:
Dear Mr. Newman,

This is in regard to your reservations for Las Vegas. Currently you have 8 future reservations at Paris, Caesar's Palace, Rio and Harrah's. Unfortunately you can only have 5 future reservations in the Las Vegas area. You will need to cancel at least 3 reservations . I will be happy to assist you I will need the dates of the reservations you want to cancel. I look forward to your prompt response regarding this matter.

Thank you,

Kathleen Carroll
Harrah's Entertainment
Internet Auditor
Firstly, if you work for Harrah's you should know there's no apostrophe in Caesars Palace. I know these things matter way too much to me, but get it right, please.
Secondly, "Internet Auditor"? What a waste of a job. Why not just block me from making more than 5 advance bookings? The system can tell whether I make a booking within 2 days of an existing reservation and tells me to go screw myself if I try it. It wouldn't be hard to prevent the 6th booking.
That's if they actually wanted to do it. However, I very much doubt that this is a blanket policy. If the reservations were for rooms I was paying for, I'm sure there'd be no issue.
As I somehow missed her first email, Kathleen has threatened to cancel my latest 3 reservations if I don't sort it out by the end of the week. It's not like I need the rooms, but it's definitely not good that a human has noticed my "excessive" (her words, and I can't really argue) reservations. I'm sure you'll hear more about this if it ends in tears.