It's the first time I've seen these "text X to Y to get spammed with offers" campaigns from Las Vegas casinos. I'm sure there must be more than just these two, but these are the ones I saw on billboards and duly sold my soul to:
Text "RIO" to 227466 :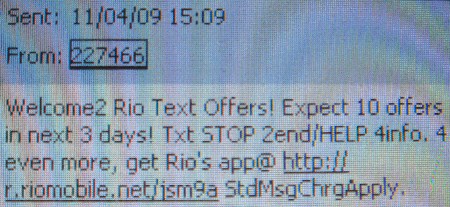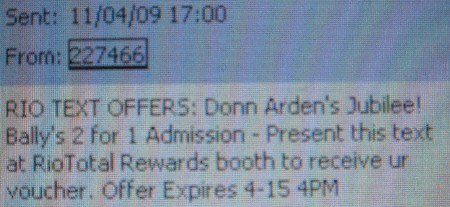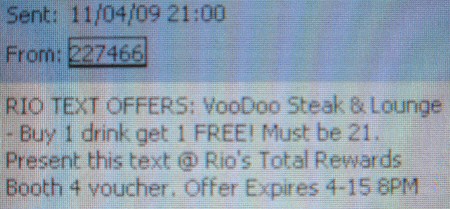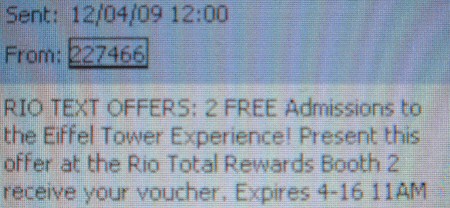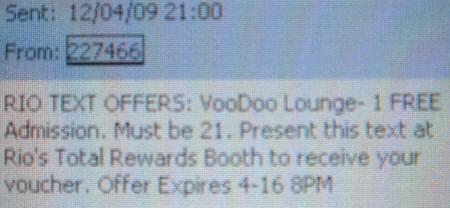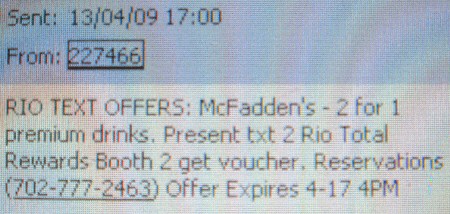 Text "MGM" to 30364 :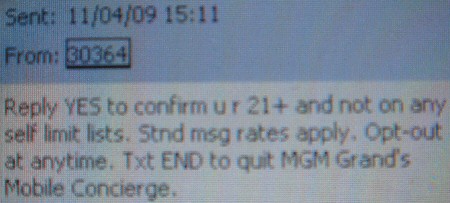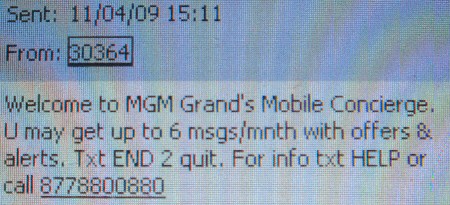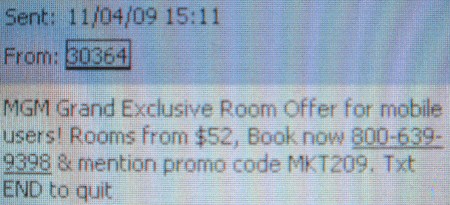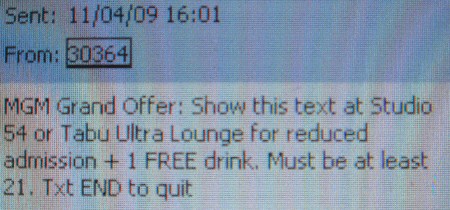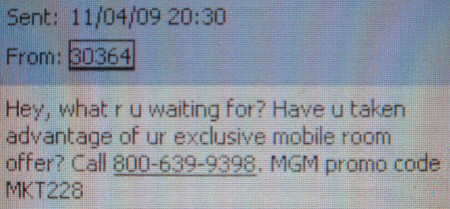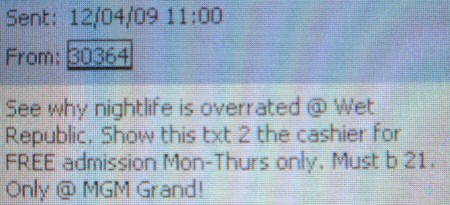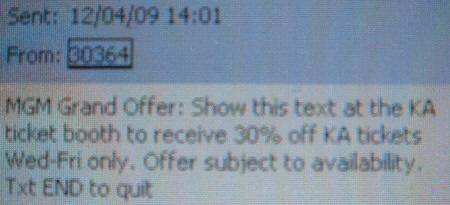 MGM's texts began by asking me to verify my age. Because, surely, if Rusty Griswold wanders up to the bar with his iPhone looking for a free drink, they won't need to check his ID if he's already answered this question truthfully.
Then they sent me a room offer, which is a little bizarre when I saw the billboard only about 10 minutes out of town. I guess there's a chance I could have driven in from LA without a reservation, hoping for a last minute cheap deal and think this is the one, but it seems unlikely.
Then, they chased up the same room offer later that day. Just in case I was still homeless. Seems like a waste of marketing to me, but what do I know? I just want the freebs.
It's not really a competition, but Rio wins this one for me hands down. I received 8 of the promised 10 offers in 3 days, with a new one being sent like clockwork three times daily. I'm sure I only missed out on the last couple because I was already on the plane home by the time they sent it. (MGM stopped much earlier, I had nothing at all on my last full day in town).
It's not hard to see Boobilee for half price – it's been a staple of the POV for many years, you can usually get it when you stay in one of their hotels, and it's perpetually a discounted show at the tickets for tonight booths. In fact I expect almost nobody pays full price. I also don't know what discounts there are for Voodoo Lounge, but I know I can get free entry any time with Total Rewards Diamond so I expect it's not hard to at least get a discount.
However, it was the completely free Eiffel Tower admissions that turned this from being a bunch of coupons I wasn't really bothered by into a great deal. It helped that it was something I wanted to do anyway, but you can't argue with the price to get one of the best views of the Strip. I've seen this as a 2fer before but never as a completely free deal.
The only possible drawback is having to collect a voucher at the Rio's players club, even to redeem an offer at a Strip property. If the Harrah's properties on the Strip are operating similar text campaigns they might be doing more Strip-centric promotions, or at least allow you collect the vouchers at a more convenient location.
As we were staying at the Rio, claiming this was a doddle. They didn't even want to see a player's card, they just read the phone screen and handed over a ticket to take to Paris for completely free admission. No name on the ticket, just an expiry date so you have to use it within 3 days.
It would ordinarily cost $10 each daytime, or $12 at night. And you can't sneak up craftily just before sunset – they close between 7.15pm and 7.30pm to make sure you pay extra if you want the view at night.
Yes, I have photos. They're coming soon…