Although I've been playing single table sit-and-go tournaments for as long as I've been playing online poker, I've never really played then in enough volume or taken them seriously enough to have a realistic idea of how well I could do.  That is, until this month.
After throwing away far too much money chasing a dream with EPT Steps on PokerStars – a series of single table tournaments that play with turbo blinds (in the lower levels, at least, the first time I got to Step 4 I was completely unprepared for the "normal" blind structure!) – I'd started to feel I was getting on OK with that format but never quite got lucky enough to parlay $5.50 into a twenty grand seat package.
There's no prizes in between worth speaking of, just odd dollars here and there, and although a poker trip to Warsaw would be nice – as well as a little bit scary – I wasn't going to go mad over it.  So  I thought I'd play a few more for, like, actual money.
Turbos SNGs never last more than an hour, and often they're over in 30 minutes – even if you make the money.  I soon realised that this speedy format should give me a chance to play enough tournaments to see a pattern emerge without having to stick with it for months and months – particularly once I became comfortable playing four at a time!
Here, three weeks later and thanks to a spreadsheet I had to knock up in Excel as I couldn't work out how to get Poker Grapher to read my tournament results, is that pattern.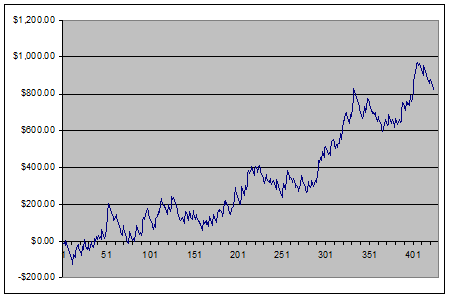 I like the pictorial view much more than the dry output from Poker Tracker, which simply tells you how great you are through the medium of green numbers.

So, yes, 425 is not a huge sample size but it's definitely a start and those early signs are looking good.  The Two Plus Two forum FAQ speculates that a "very good player" could achieve a return on investment of 14% at this level, so I think I have every reason to be pleased with this performance.
So what's my next step?  Time for an enforced break now while I nip off to Vegas for a week or so (T-2!) but if I can carry on with these winning ways I'm going to need a plan to try to maximise the money I can make from these tournaments.
The results above equate to a win rate of about $8/hr in real terms (playing four tables and waiting for each set of four to complete before starting again), which is not to be sniffed at but it doesn't compare to most of the casino bonuses I've been playing lately, and even though poker is much more interesting than blackjack this probably isn't enough to keep me focused on playing intently for any longer than any of my previous poker fads have lasted.
So should I consider moving up limits yet?  Or perhaps try to play more tables at once at the same buy-in?  Or maybe I should stick with what seems to be working but look to improve, nay perfect, my game using tooks like Sit-and-Go Power Tools or SpadeICM?
I'll have to have a good think about that over an all-you-can-eat buffet next week… 😉