Since getting back and looking through some of my older photos of Las Vegas, I've decided that in the summer I'll make it a bit of a project to try to retake some of the old shots I have from exactly the same angle to show how much the Vegas landscape has changed in, really, quite a short time.
It's more by luck that judgement that I found some that already line up pretty closely, although as there's only a handful of viewing holes at the top of the fake Eiffel Tower it's only to be expected that I'd have caputed virtually the same views I did the last time I went up – in June 2000.
So, here I present some wonderful two-frame, nine-year time lapse photography. You can click on the 2009 photos to see all the gory detail, if you're that way inclined.
Looking kind of southeastish in 2000: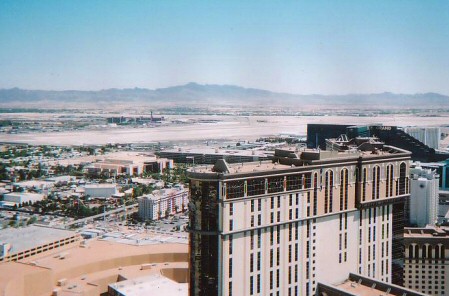 The Aladdin (right, foreground) was almost complete (it opened in August 2000). You can just see the green MGM Grand behind it, and the Tropicana behind that.
And now:
The facelift when it was renamed to Planet Hollywood in 2007 was not so drastic on the hotel tower as it was at ground level. It's just a little less Arabian. Click to zoom in for the full gory detail, and you can see the The big shiny building springing up in the hole to the left of the frame is the Planet Hollywood Towers by Westgate. The exterior glass was completed just this month.
To the left of the MGM is the top of the Marriott Grand Chateau, which was meant to be cross-shaped but they've given up half way through and now it's just an "L". The property one block east of The Aladdin that looks like it had a Strip view in 2000 – and now has a view of the back of the PH Towers – is The Carriage House. You can just see it peeking through in 2009. An off-strip, non-gaming resort way back then? Clearly it was ahead of its time.
Let's turn to face due south. In 2000, it looked like this:
Now watch, as the Monte Carlo and most of New York New York disappears before your very eyes, without the aid of an implosion:
That's all CityCenter. It's very large and very new (bits of it might open later this year) but it's not the only thing that's changed here.
There's no way you'd see it (or, rather, notice the lack of it) with the poor resolution of the old photo, but if you look way off into the distance now, you can just make out a dark building at the very end of the Strip which is the M resort (opened last month) and a gold building which is South Point (opened 2005).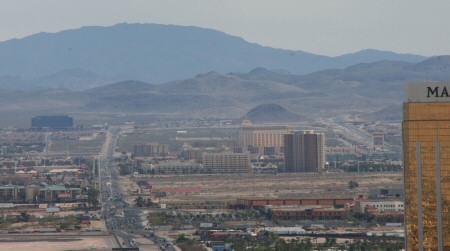 THEhotel at Mandalay Bay (2003) is also mostly obscured from this angle, but you can just see it behind a NYNY skyscraper.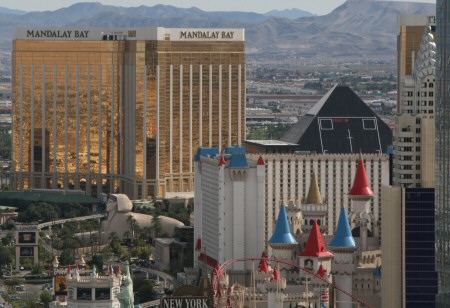 Then there's the proliferation of building wraps and other jumbo-sized advertisements all over the place. To be honest, in this view it's not so bad as if you look at the front of the Flamingo, or fake Venice. But they're there, and they never used to be.
You can barely see the Strip-facing side of the Luxor from this angle, but it's been ruined by adverts on the front for some time now. I remember it promoting the musical Hairspray, and currently it's for Criss Angel. Pimping their own shows is bad enough, but when it's totally sold out as a billboard for liquor it's just ghastly.
But not content with spoiling the front of the pyramid, they've now slapped a "viewfinder" onto the other three sides (visible in close-up above) to solicit interest in further defacing one of the most iconic Las Vegas landmarks.
There's a banner for Lance Burton's show at Monte Carlo hanging on the side of the showcase cinema. That wasn't there nine years ago. Burton was. You can also see the Hawaiian Market place here, which is new but you can't really tell from this height. It has a bit of a canopy that wasn't there before.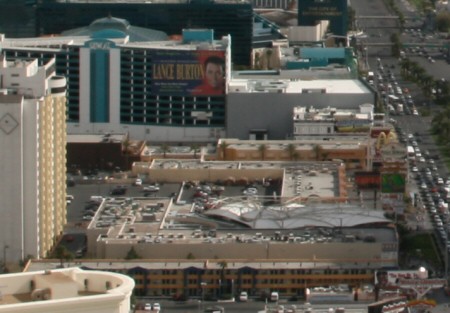 There's also the advert for Dick's Last Resort in the Excalibur tower, where Merlin once stood.
You can also make out a full-height banner on Planet Hollywood for Peep Show, their new titty show with Scary Spice. Really.
I'm sure the only reason CityCenter doesn't have any wraps on its big glass buildings (perfect for this kind of abuse) is that all the windows aren't in yet.
Let's rotate around to see Caesars Palace in 2000: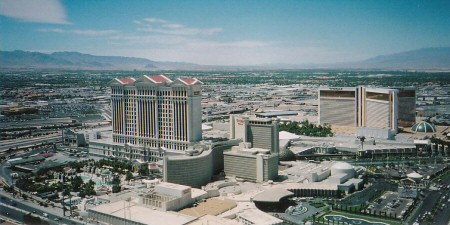 For as long as I've been visiting Las Vegas, it's always seemed like there's been some kind of construction going on at Caesars. I'd never realised just how much it had grown though until I put these pictures next to each other.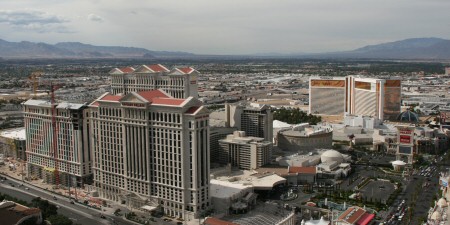 The Augustus Tower (front of frame) dwarfs most of the resort from this angle. The Octavius Tower (to the left, with the crane) is almost finished – on the outside at least, which is as far as they're taking it for the time being. The other major addition is the Colosseum (round building, looks like… err.. The Colosseum), built for Celine Dion in 2003.
These photos crop it off, but they've also begun using all the space up to the sidewalk – most recently for a copy of New York's Serendipity 3, right on the corner of the intersection.
The classic marquee sign (bottom right, squint a bit) has been replaced (in fact, it looks like it actually moved too) with a fancy new one that has a video screen at the top showing clips of Bette Midler and Cher. It's not as good, but then I love the old-style letterboard signs.
"Starring Gladys Knight", in case you can't quite make it out. That screen that says "IP" on the side of Imperial Palace no longer works either, I think for quite some time. I never even realised there was one there before I looked at these old photos.
I'm slightly disappointed that I haven't found any older photos facing north, which is where the skyline has seen its most significant change. Off the top of my head: Desert Inn, Stardust and New Frontier have gone; Wynn, Encore, Palazzo and Trump have opened; FontaineBleau is going up; Turnberry Place and about a dozen other condo projects with just immemorable names that I can never remember which is which have shot up. I'm sure that's not all.
All you used to be able to see in that direction was the mighty Stratosphere Tower. Now it doesn't look much taller than any of the high rise condos from a distance.